Your wedding ceremony is the ultimate expression of both your desires, ideas, ideals and spiritual needs as individuals and as a couple. In this ceremony you want to include those religious and cultural traditions – both the shared and the different – that express your beliefs. Your ceremony serves to affirm to each other your love and commitment to the covenant you are entering together and also to express before your family and friends what you mean by your new state of being married. 
Together we will construct your wedding ceremony using elements rooted in the ancient Jewish culture together with your spiritual traditions, adding your personal wishes of contemporary and creative ideas. Integrating and harmonizing the heritage and culture of your families into the wedding will have the power to bring those around you to be one big mishpoḥa (family) as they join together in this great Simḥa (Joy).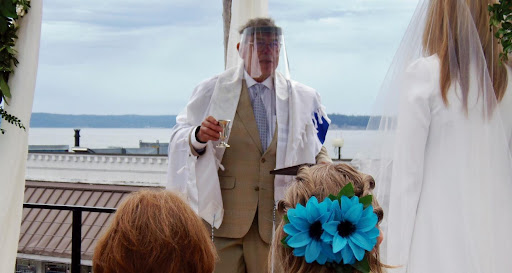 So many years ago, you both entered into a covenant, that defined by Rabbi Sacks as "A bond by which two parties pledge themselves to one another, each respecting the freedom and integrity of the other, agreeing to join their separate destinies into a single journey that they will travel together, as an open-ended relationship into the unknown future".
Now, many elements of the "unknown future" have become past experiences. Experiences that made your love grow and deepen, and have forged and strengthened your relationship. Re-enacting the ceremony that started your joint journey by repeating your wedding vows of old and adding new ones is a meaningful way to reaffirm your pledge to the covenant of love and friendship; of sanctifying each other. And it is yet another excuse for a party!
Let us walk together along memory lane with our eyes also looking forward towards the future that you desire to have, as we create together the ceremony that will be the most meaningful to you and to your family, a beautiful legacy and role model to the next generations that you love.